We have partnered with a cutting edge software solution to help our bowlers stay on top of their game.
What is it?
Maybe letting them tell you is best - goto  https://www.computerscore.com.au/bowlers.
So, in one word?  EASY! 
- Our scoring system is connected in a secured way to the internet!  And with the push of a button, you can look at your scoresheet, check your teammates, look at your league standings, even reserve lanes for parties and corporate events!!!
Want another word?  AMAZING!

Here are the basic steps for how it works at our bowling center:
Open the www.walnutcitylanes.net webpage on your phone.
Click the 'Livescore' button in the top right corner.
Click the "View" button on the lane you want!
What can it do?
| On Scoreboard | On Phone |
| --- | --- |
| Change display grid | Book a lane reservation |
| Pin-action replay | Book your corporate event |
| Pindication with Sparemaker(tm) | Book a birthday party |
| Analysis Help | View your league standings sheet |
| Individual Graph | Real-time scoreboard |
| Team Graphs | View your friends scoreboard |
The list goes on!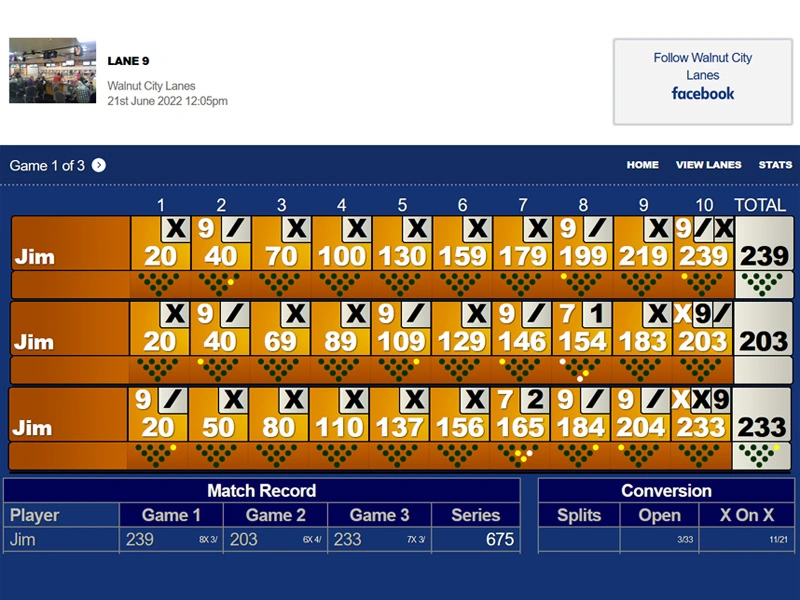 Real LiveScore example!
Yah! I know right? EASY! and AMAZING!
Okay, okay - that's two words.

Check it out!